80 for 80: Celebrating 80 Years of the Architectural Conservancy of Ontario
Architectural Conservancy Ontario


Format:
Softcover, 
176 pp, over 200 illustrations
Dimensions:
UNKNOWN AT THIS TIME
Publisher:
Architectural Conservancy Ontario
ISBN#:
978-09813451-2-3
Cost:

$25.00
A celebration of heritage properties and the people who saved them. Edited by Kayla Jonas Driver with contributions from volunteers across the province, starting with the saving of Barnum House, ACO's founding project, to Hamilton's Lister Block with stops in 78 other places of note. A history and a publication to be proud of!
ACT Magazine: Hospitals & Development
Steve Russell, Editor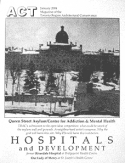 Format:
Softcover magazine, 32 pp
Dimensions:
8.5 x 11
Publisher:
Architectural Conservancy of Toronto (ACO Toronto)
ISBN#:
978-0-9699054-5-5
Cost:

$10.00
Among the issues examined are public-private partnerships and the development pressures under which demolition occurs at historic hospitals. 

Specific sites featured: CAMH at 1001 Queen Street West, including the asylum wall; St. Joseph's Health Centre's Our Lady of Mercy building; and Riverdale Hospital (1962) at Bridgepoint Health Centre
College Street: Loft Buildings on the South Side, 1903-1915 (Part One)
Steve Russell with Alec Keefer


Format:
Softcover, 57 pp, B&W photos, drawings, and plans
Dimensions:
9.25 x 7.25
Publisher:
Toronto Architectural Conservancy (ACO Toronto)
ISBN#:
978-0-9699054-9-3
Cost:

$20.00
The first in a projected series on early 20th century buildings (1903-15) on this notable commercial Toronto street. Illustrated with contemporary and archival photographs and architectural drawings, the book examines twelve loft buildings along ten blocks of College Street. All fit within the description of lofts as generic, flexible containers designed to accommodate industry, offices, warehouse space, clubs, and retail. For each building, in addition to extensive design and engineering information (including background on the architectural firm responsible), high quality black and white photos, plans where available, and maps, data about tenancy and subsequent uses is provided.
The buildings are each recognized as unique heritage assets through their materials, design, and historical context. They are also considered together to underline how the style and versatility of Edwardian lofts have shaped Toronto's College Street and nearby neighbourhoods.
The book received a 2013 Heritage Toronto Award Honourable Mention in the Book category.
Eric Ross Arthur: Conservation in Context (Exhibition Catalogue)
Alec Keefer, Editor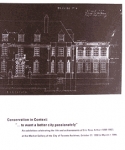 Format:
Softcover, 20 pp, illustrated
Dimensions:
7 x 8.5
Publisher:
Toronto Architectural Conservancy (ACO Toronto)
ISBN#:
NA
Cost:

$20.00

Currently out of stock.
In 1998 the Toronto Architectural Conservancy staged an exhibit marking the centenary of Eric Arthur's birth. This catalogue includes an article by curator Alec Keefer and selected reproductions from the exhibit.
Eric Ross Arthur: Conservation in Context
Alec Keefer, Editor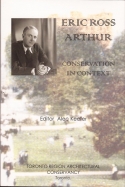 Format:
Softcover,197 pp,
Publisher:
Toronto & Region Architectural Conservancy (ACO Toronto)
ISBN#:
978-0-9699054-4-8
Cost:

$25.00
Eric Arthur came from New Zealand to Toronto and changed the face and the spirit of the city. He taught at the School of Architecture; edited and wrote for the Journal of the Royal Architectural Institute of Canada; authored many books, chief among them 'Toronto: No Mean City" the definitive history of early Toronto architecture; spurred preservation by founding the Architectural Conservancy of Ontario; spearheaded the international competition for Toronto's new City Hall; designed industrial, institutional, and residential buildings in Toronto and across Canada; and inspired thousands of students, colleagues and citizens. This anthology of free-ranging anecdotal and scholarly essays offers select glimpses into Professor Arthur's always busy life.
Kingsway Park: Triumph in Design -- An Architectural Study of a Planned Community, 1924-1947
Elizabeth Ingolsfrud and Alec Keefer, Authors/Editors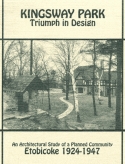 Format:
Softcover, 82 pp + introduction, B&W photos
Dimensions:
8.5 x 11
Publisher:
Toronto & Region Architectural Conservancy (ACO Toronto)
ISBN#:
978-0-9699054-1-7
Cost:

$25.00
In print again after 10 years: this comprehensive neighbourhood study of Robert Home Smith's Etobicoke residential enclave, documents the cultural and social life of the generation that built the park including the architects, developers, builders, and first residents of each of the 671 houses, along with photos and descriptions of the houses themselves.
Access All Areas: A User´s Guide to the Art of Urban Exploration
Ninjalicious (Jeff Chapman)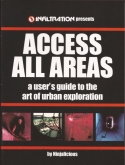 Format:
Softcover, 
242 pp, 61 B&W photos, index, glossary
Dimensions:
6x8
Publisher:
Infiltration
ISBN#:
0-9737787-0-9
Cost:

$20.00
Ninjalicious was the pen name of Jeff Chapman, a Torontonian who achieved acclaim well beyond his city for his evocative descriptions of abandoned buildings, "behind the scenes" spaces within buildings and many other "off limits," underused and private areas. His explorations were guided by a code of conduct not unlike one that might be in effect in a natural park: enjoy the adventure, observe and record but take no action that has an effect on the surroundings. Jeff was a member of the TAC executive and these memoirs are a very original and exhilarating "face to face" encounter with architecture in our city, including the King Edward Hotel and Alsop's OCAD. This may be the only book in the world that has "The Powers That Be" as an index entry (five occurrences), which provides an idea of Jeff's conspiratorial sense of humour.
Smart Address
Alec Keefer, with Pamela Wachna, Michael Dowbenka, and Kate Akerfeldt


Smart Address Cover
Format:
Softcover,142 pp, B&W photos throughout
Dimensions:
8.5 x 11
Publisher:
Toronto Architectural Conservancy (ACO Toronto)
ISBN#:
978-0-99216-20-0-9
Cost:

$25.00
Produced as the catalogue for an exhibition at the City of Toronto's Market Gallery, Smart Address examines the changing face of architecture in Toronto between the world wars. To be included, the buildings must have been mentioned in one of four architectural magazines published in the 1920s or 1930s. Black and white illustrations and written descriptions from the archival publications highlight a broad assortment of buildings ranging from office towers to small shops, some still standing and others now demolished.
The Provincial Asylum in Toronto
Edna Hudson, Editor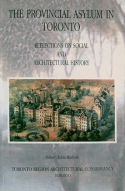 Format:
Softcover, 270 pp
Dimensions:
6 x 9
Publisher:
Toronto & Regiona Architectural Conservancy (ACO Toronto)
ISBN#:
978-0-9699054-3-1
Cost:

$25.00
On the 150th anniversary of its debut, the landmark asylum (demolished in 1975) is reconsidered. Its hard fall from grace began shortly after construction. First its sophisticated architectural program was overwhelmed, then it was and under-maintained, and finally it was blamed not only for functional shortcomings but also the collateral failures of medical treatments.
 A dozen contributors essay the possibilities of designing and using a building as a therapeutic instrument. According to John Bentley Mays in the National Post: "a useful lesson in how the meanings of medical architecture shift and slide over time ...with the darkenings and lightenings of medical knowledge about our frail human condition." Contributors include Pleasance Crawford, Cyril Greenland, Shirley Morriss, Douglas Richardson, and John Sewell. Comprehensively illustrated with many rare period photos and other graphics


The Romanesque Head Office of Confederation Life Association
Edna Hudson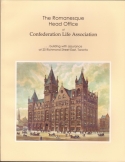 Format:
Softcover,122 pp, B&W photos, maps, and drawings
Dimensions:
8.5 x11
Publisher:
Toronto & Region Architectural Conservancy (ACO Toronto)
ISBN#:
978-0-9699054-2-4
Cost:

$20.00
A history of the Confederation Life Headquarters, an exuberant Romanesque/French Gothic skyscraper designed by Knox and Elliot in 1889. It remains today one of the most beautiful exteriors in Toronto. In the dark ages of the 1980s politics, planning, and aesthetics collide as Ron Thom and Raymond Moriyama both attempt to integrate the building into a new development, eventually undertaken by Page and Steele. Comprehensively illustrated with new and archival photos, drawings, paintings, maps, plans, blueprints, elevations, charts, advertisements, and newspaper clippings. A tour de force of critical research thatwon a Heritage Toronto award for Ms. Hudson.
Toronto´s Theatre Block: An Architectural History
Paul Dilse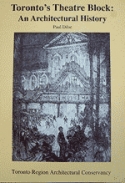 Format:
Softcover, 72 pp., 66 B&W photos (including a centerfold panorama)
Dimensions:
8.5 x 11
Publisher:
Toronto & Region Architectural Conservancy (ACO Toronto)
ISBN#:
978-0-9699054-0-0
Cost:

$20.00
A detailed record of a noteworthy downtown Toronto commercial block, that argues that the block be spared from intrusive redevelopment. The buildings include not only Massey Hall, the Elgin and Wintergarden Theatres, former banks (and the former Heritage Toronto offices), but also the lesser-known buildings which join these together. Photography specially commissioned from architectural photographer Peter MacCallum.